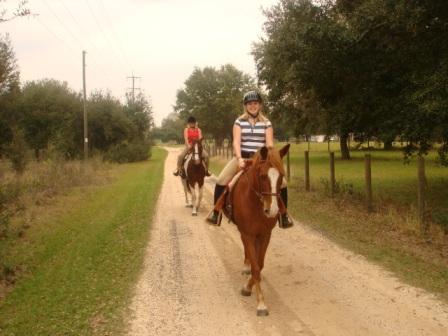 Trail Riding Frequently Asked Questions
What is the age limit for horseback riding?
We can give hand led pony rides for kids of all ages.  If the child wants to go on a trail, the age limit is 6 and above. An Adult over 18 MUST accompany a minor.
Are your horses "nose to tail" trail riding?
No, definitely not. Our horses are safe, but they are not nose to tail trail riding horses.
Do you allow double riders?
We do not allow double riders, sorry!  For safety reasons, we do not allow double riding.
How many people can go on a trail ride at a time?
We can bring out two to eight guests on a trail ride at a time.
Is there a weight limit for trail riding?
Yes, our horses can carry up to 240 pounds.
Do I need to make a reservation?
Yes – please call or text  407 702 8332 to reserve a space. We are open 7 days a week by appointment. You can also email us dchorses1@gmail.com or message through our Facebook page to make appointments.
When are you open?
We are open 7 days a week from 9am to dusk, please call for an appointment.
Do we have to wear helmets?
The law requires anyone under the age of 18 to wear a helmet.  At Dreamcatcher Horse Ranch we require ALL riders to wear a helmet when mounted for your safety.  We have plenty of helmets available for your use.
Can you accommodate beginners?
Yes of course, we have nice  horses ready for you to enjoy . We will show you how to get on, how to use the reins, how to stop and go and we won't go out until you feel 100% comfortable.  If you are a complete beginner we also offer a mini lesson option as an add on prior to your trail for just $20 extra.
Do you allow trotting and cantering on the trail?
The  trails are  walking only for safety and comfort of all riders and the horses.
Do you ride English or Western?
We ride Western on the trails so you have the comfort of holding onto the horn if you need to.
Can my Grandparents ride?
For safety reasons, if someone in your party is of "advanced" age and not accustomed to riding horses on a regular basis, you might want to reconsider his or her participation.  Even if your grandparents are still very active, please remember that horseback riding is a very physical activity and is not at all similar to golfing or bicycling or any other sport activity.  Hip replacements, arthritis and decreased motor skills can certainly interfere with the rider's ability to balance, stay seated or even hold the reins, and heat exhaustion and fatigue can be a serious threat at any age.  In other words don't surprise them the day of the ride, but discuss this with them (and us) in advance. We have had  many  senior riders at the barn who have thoroughly enjoyed their experience.
Can I ride if I'm pregnant?
No!  Although this is a gentle ride, horses can be unpredictable so please don't risk it.
Can I choose my own horse?
Horses are as different from each other as we are as people.  They are different sizes, colors, and personalities.  Our horses are all awesome. We trained them, live with them and know them.  We also know people.  We will pick a horse for you individually based on our experience with both.
Do you still ride in bad weather?
If it starts to sprinkle on the trail, we will continue to ride.  If it rains, storms or is extremely windy, we cannot go on the ride and will have to reschedule.  If you are unsure of the weather, please call before you make the trip out and we will let you know what it looks like.  It is not safe to ride in bad weather and living in Florida, we all know the weather can change at any minute!  We also have a weather station at the barn and you can check this  though our website or Facebook prior to leaving home.
Can I bring a camera?
Yes of course you can bring a camera and take as many pictures as you like before you get on your horse. Once you are on your horse, photography is not allowed.  You need to stay focused on the ride.  We are more than happy to take pictures of you on your horse either before or after the ride.
How should I dress?
Dress for whatever weather it is. Make sure you wear sneakers, tennis shoes or boots with a little heel on them.  If you have riding boots, that works too, but is not required.  You cannot wear sandals or flip flops-no exceptions!
Do I tip the trail guide?
It is not required to tip the trail guide, but if you had a wonderful time and would like to tip that is always appreciated!
Can I get a barn tour and meet all of the horses?
Yes of course, we will take you around and tell you the story of each horse and you can pet them, give them treats, etc.  It is $5 per person  extra for a complete barn tour. please  request at time of booking.
Is it too hot for the horses in the summer?
Horses can adjust well to the climate they are in.  Our horses are well conditioned and we will not put them in any situation they can't handle.  In the very hottest part of the summer, we do not ride between noon and 3pm as that is the hottest part of the day.
What do I do if I have a question on the trail?
Feel free to ask the trail guide anything you want to!  There are no silly questions, so please don't be shy!
What does it mean to be an 'experienced rider'?
We ask you if you are experienced so that we can match the horse to the rider.  If you have had lessons in the past or have ridden horses for years that means you are somewhat experienced.  If you have just been on a trail where you only follow the horse in front of you, you are not experienced.  Please be honest with us as we don't want you to get hurt!
If you have any additional questions, please feel free to contact us.  We be glad to answer any questions to that you can enjoy your trail riding!