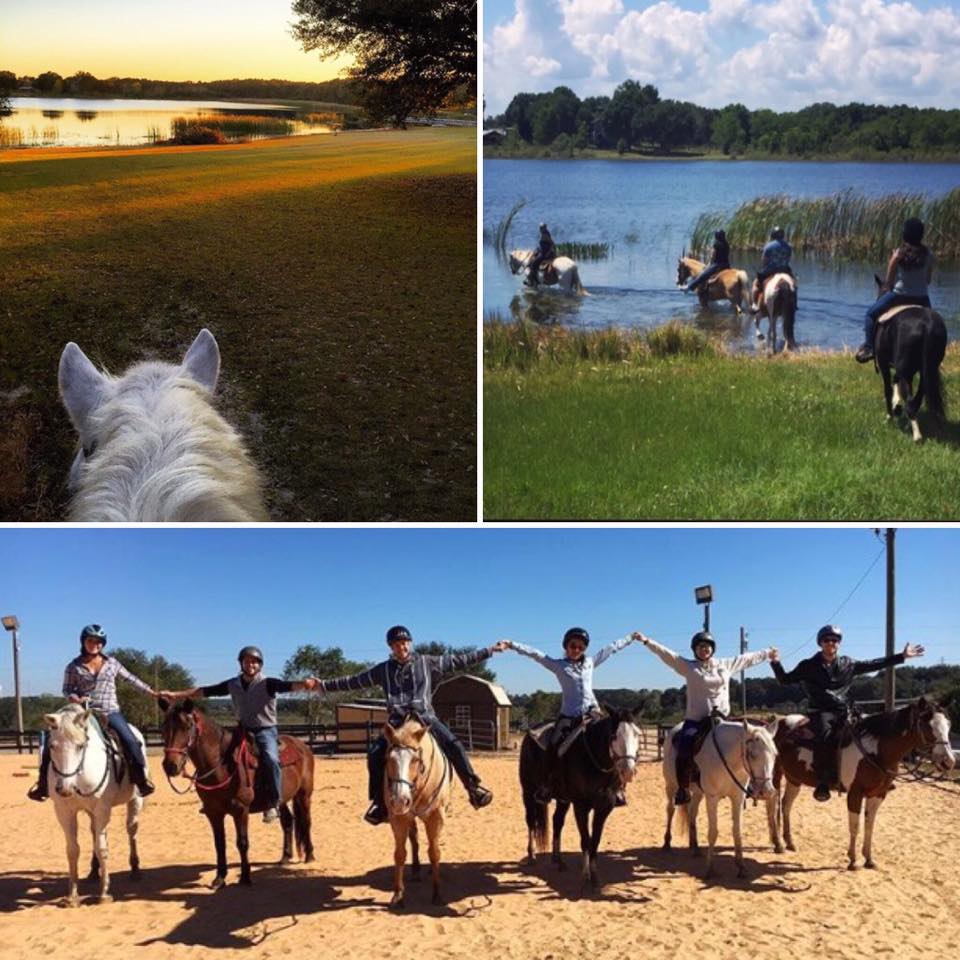 TRAIL RIDING
Trail Rides are available 7 days a week
 Appointments are required
Please Call Early to Avoid Disappointment
Call/Text 407 702 8332
RATED #1 ON TRIP ADVISOR FOR HORSEBACK RIDING TOURS IN 2017!
40 minute experience  – The Lake Ride – $40 per person
This scenic trail is approximately 40 minutes long . Each horse is matched to the rider's ability and the trail guide will give basic instruction before going out on the trail to help you get comfortable. The trail is Guided and is walking only for the safety of the Horses and Riders. Age 6 and older welcome! We also offer pony rides for the younger ones in our large arena.
Our unique and relaxing Trail Ride  is fun for all the family! We enjoys Florida's beautiful Nature including  a wooded trail, views of our local winery and also a walk through our  crystal clear lake! (Shallow or deeper options available!) Also  get to see some of Florida's protected species including Sandhill Cranes, Ibis, Herons, Eagles, Gopher Tortoise and more! This trail is safe for beginners and  we can accommodate riders ages 6 and up on this ride. Its a great experience and a must do for  vacationers looking to see the 'Old Florida' and get away from the amusement parks for a day.  Nearby we have a local winery with free wine tasting tours and a  lakefront tiki bar which is a great spot for lunch before or after your ride! We can  also offer a short lesson  option  before the trail if you would like to add on.
Short lesson before trail – add on option
For just $20 extra you will get approx 15 minutes learning to groom and tack your horse to help you feel comfortable around the horse prior to your trail ride. You will then get a 10 mnute  brief riding lesson to teach you the basics of riding before you set  out on the trail.  This is a great option for beginners, horse lovers  and also for spending time with friends or family.
*Management reserve the right to check your riding ability prior to going on any trail and if they do not feel comfortable with your skills can cancel the trail and refund your money.
Why not add on Barn Tour after your ride and meet our rescue horses and hear their stories! You are welcome to bring apples and carrots to feed them if you book a tour! Just $5 per person.
Hands on Experience
For those of you who would like to spend some hands on time after the ride around the horses we also offer grooming session – for just $15 extra we will show you how to groom a horse or pony after the ride. (15-20 mins approx.)
Please note, All our Horses are very well trained and know their job – however,when a horse goes out of its familiar environment, they become more alert and as an animal of natural flight, they can spook.
To make a reservation for a trail, please call or text  407 702 8332  to check for availability.
💙Fun fact: Did you know that all of the money from our trail rides goes directly to the feed and care of our wonderful rescue horses! We are so thankful for all of you that support Dreamcatcher
A deposit of $10 per person is required to hold a space for the trail rides. You can give us a credit card number over the phone. This is NON REFUNDABLE unless ride is cancelled due to bad weather by management.
Additional information-
Frequently asked questions:

▪️Appointments are REQUIRED so please call ahead to avoid disappointment

▪️Helmets are required (we have them available)

▪️Weight limit is 240lbs

▪️All riders must be wearing closed toed shoes

▪️Please arrive 10-15 minutes prior to your appointment for check-in

▪️All customers must sign our equine waiver

▪️We have a mounting block for riders to get on/off horses

▪️We take pictures of your group on the horses after the trail ride on your phone or ours

▪️There are 2 trail guides that go on the trail to ensure safety

▪️Trail rides are walking only- no trotting, cantering, or galloping is allowed

▪️please call with any other questions
Contact us with Questions or for More Information
Credit Card Authorization Form
Cancellation policy- If you cancel your appointment the day of the trail or do not show up on the day of the trail your credit card will be charged for the full amount of the trail ride.