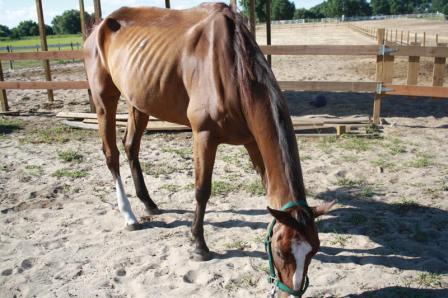 DreamCatcher Horse Ranch & Rescue Center was founded in 2010 to help prevent cruelty and neglect to our wonderful Equine friends. We didn't set out to open a rescue center – it just sort of happened.  Now, every year we take in horses in desperate need of vet care, food and most of all, love and care to help them trust humans again.  Most of the horses we take in come from our local Animal Control facility and they call us when the horses have ran out of time.  If we can't take them, they usually have euthanize the horse.
We are extremely passionate about our work and thanks to our wonderful volunteers, we are able to continue our quest to bring the horses back to health and either find them a new forever home or give them a forever home here at Dreamcatcher.
Our uniquely extensive riding program, available for all ages and abilities throughout the year, enables us to bring in money to keep the rescue going as it is hard to exist on donations and grants alone.  We hope, with local community support of this program, we can continue to support the financial side of the rescue for many years to come.
Our Mission Statement
Our Mission is to help prevent cruelty and neglect to horses in our community by accepting horses in need who may have been abused, neglected and/or unwanted into our facility on request by local animal services Sheriff's Dept., owner donations, and abandoned or unwanted horses.
· We will provide them with a loving, caring and safe environment and provide necessary routine or urgent medical treatment and after care
· We will provide them with correct diets according to their individual needs to bring them back to health physically
· We will provide a safe environment to help them recover mentally from previous abuse situations
· We will provide training to bring the horses back to a level of serviceability according to their individual limitations.
· We provide a last chance prior to euthenisation. ​
Also, we will
· Create awareness by providing the general public and our local community with information on our work and the facility.
· Offer education and training in the care of these horses and also in natural horsemanship
· Provide the general public access 7 days a week by appointment to enjoy a wide variety of hands on programs to interact with the horses and learn about our work.
To accomplish this goal we actively solicit donations, apply for Grants, create awareness of our facility through fundraisers and community outreach, and also open our facility to the public for various educational and family programs throughout the year to ensure sufficient funding for continued success.
Dreamcatcher Horse Rescue – Sponsor a Horse
Your contribution will provide the gift of food, veterinary care, shelter and a safe and loving environment for our horses.
For example:-
$25 will buy a bag of feed or treatment for sand in the horse's belly
$30 will pay for steroid treatment for 1 month
$40 will buy 2 bales of quality hay for protein
–  or a weight supplement
–  or a farrier treatment (needed every 6 weeks)
$50 pays for 2 bags of feed
–  or a coggins blood test to ensure horse has no infectious diseases
$75 pays for annual shots
– or 3 bags of feed
– or a joint supplement.
$100 buys enough grain to feed a horse for a month
$150 pays for annual dentist care for 1 horse
$250 will cover the cost to ffed and care for a horse for a month
$750 for 3 months
$1500 for 6 months
$3000 for a year.
Please consider a donation to help your favorite rescue! We truly appreciate it!
Download Your Sponsor a Horse From