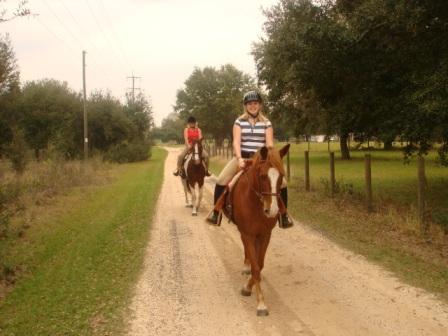 HORSEBACK RIDING ORLANDO
Horseback Trail Riding from Orlando can be made by appointment.  The Horseback ride itself is approximately 45 minutes long.  Each horse is matched to the rider's ability and the trail guide will give basic instruction before going out on the trail to help you get comfortable.  Trail rides are $45.  A trail ride with a full barn tour is $50 per person.
Please note, Horseback Riding Orlando is not for complete beginners as you need to be able to steer and control the horse yourself.  When a horse goes out of its familiar environment, they become more alert and as a animal of natural flight, they can spook.  However, if you or your child has no experience and would like to ride, we can offer a side walker (when available) for $10 extra charge.
If you have no experience at all riding horses then please consider the lessons we offer – we have a hands on fun and educational Horseback Riding Lessons program with no long term commitment which will help you get ready for trail riding later on.
We recommend no riders on the trail under 12 years for safety reasons but again can offer a side walker to assist the younger ones for an extra $10.00.  To make a reservation for a trail, please call 407 702 8332 or 352 398 5491 to check for availability.  Once a date and time has been confirmed, please complete the 
DCHR Credit Card Authorization Form
 and return by email, or fax to 407 641 8568.
Please note a deposit of $20 is required to hold a space per person for the trail rides. This is NON REFUNDABLE unless ride is cancelled due to bad weather by management. If you don't turn up or cancel the trail less than 48 hours prior to the reservation the deposit is forfeited.  For the Horses well being, we  limit up to 200lb for riders.
Contact us with Questions or for More Information about Horseback Riding Orlando