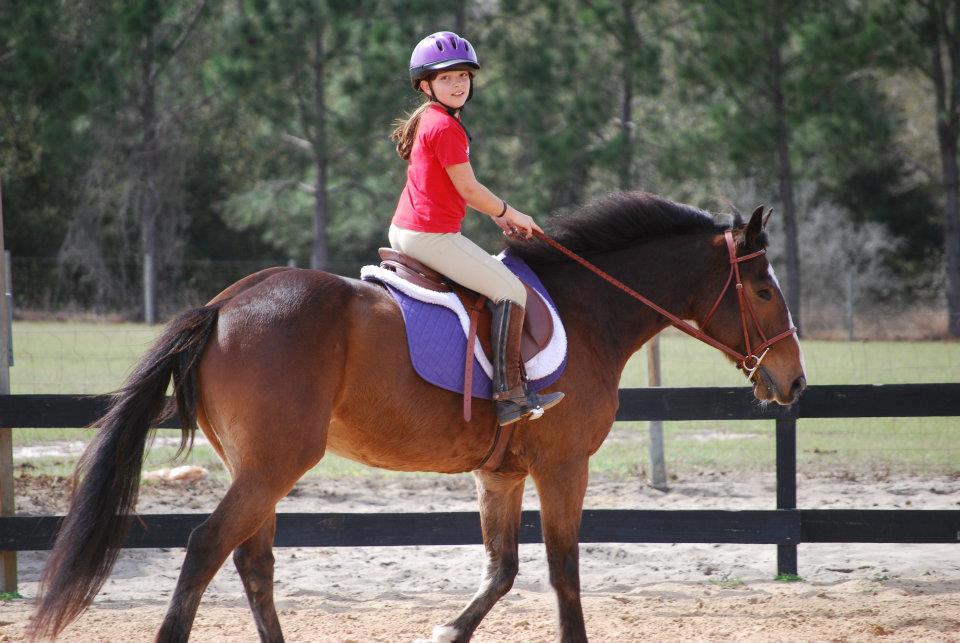 HORSEBACK RIDING LESSONS
Beginner Riding Lessons
Any age and riding ability are welcome! We have horses to suit all needs. A hour long beginner lesson is $35.00 and is very hands on. You will learn how to go get your horse, learn how to groom &  tack correctly, then have 30 minutes of one to one private tuition on the horse in our enclosed arena.  After the riding portion you will learn to untack the horse, clean them down/cool them off and put them away safely. The riding portion of  the lesson is 30 minutes long. We have wonderful patient  instructors who are all very skilled and knowledgeable to help you meet you or your children's individual needs for horse riding fun and education.
Hunter/Jumper Lessons
If you are looking for more advanced lessons, or wish to attend  and participate in horse shows we are proud to offer you lessons with our  Professional Hunter/Jumper Show Trainer Kathleen Young. She has an extensive background working with both horses and riders in private lessons, clinics, and during horse shows. She has produced many riders who have gone on to be successful riders, attend equestrian colleges and become trainers themselves.
We have some wonderful horses you can ride for lessons and shows. For a lesson with our advanced trainer it is $30 plus $20 to use our horse.  You need to be able to groom and tack yourself to take lessons with Ms Kathleen and the lesson is 30 minutes long.  You won't be disappointed!
Custom Made Lesson Experience –great for birthday gifts etc!  GIFT CERTIFICATES AVAILABLE!
Have a person you wish to give something a little special to? We can customize a package to suit your needs –For example a birthday child may like to take a beginner lesson  then  add on a barn tour, a horse grooming session or even a riding lesson then a  trail ride. Please ask for more details.
If you would like to schedule a lesson, or have any questions, please contact us.