"I'm ready to sponsor a horse what now?"
What is A Sponsor?
Basically, a sponsor is a horse's angel. A sponsor helps provide for the needs of a specific horse through directed monthly or one-time donation. This helps the horses because our general funds are almost always used up on hay, vaccines, farrier service, dewormer, emergency vet visits, and critical rehabilitation costs. There might not be enough left over to elevate the quality of care for another individual to what they would get if they were, say, an "only horse." For example, while Levi was gaining weight from being really emaciated, he was able to benefit from nice nutritional hay bought by a sponsor. Sophie, found abandoned and picked up by animal control full of worms and eyes swollen as large as grapefruits, was able to get special supplements, blanket and other useful items because of her sponsor.
Sponsors benefit by knowing their dollar is supporting a horse of their choice, whether by providing something as simple and vital as food, or by making it possible for a hospice horse to live better and longer. Sponsorship is a great way of having your "own" horse if you can't keep one where you live.
How does sponsorship work?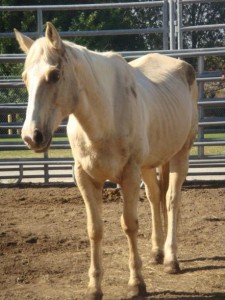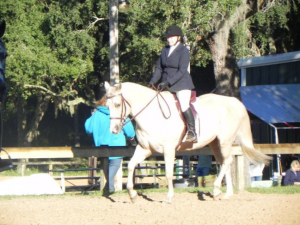 [/one_half_last]
Sponsors send in a monthly amount or a one-time directed donation, with the horse's name on the memo line of the check. That money is used for rehabilitation and upkeep of the specified horse. Sponsors may help from a distance, or schedule visits to Dreamcatcher and enjoy a hands-on relationship with "their" horse if they choose. Such interactions will require the sponsor to sign a volunteer waiver and learn about safety working around/with horses.
There is no set sponsorship fee requirement. Even small donations add up. Though making and keeping a commitment for several months or a year would help us with budgeting, sponsors may contribute any amount they wish and stop sponsoring the horse at any time.
The sponsor is notified when the horse is adopted out. The sponsorship ends then, or the sponsor may choose a different horse. Sponsors receive pictures and updates on the horse's progress and doings.
S
DreamCatcher provides the best care, and the fullest life, we possibly can to each and every horse. All of the our Rescue horses would benefit by sponsorships and directed donations while they complete rehabilitation or become a sanctuary horse  as we have promised them we will care for them for the rest of their lives so they can never be in a bad situation again. . We invite you to look over the website, and sponsor whichever horse tugs at your heartstrings!
I'm ready to sponsor a horse! How do I start?
Choose who you would like to sponsor (call or text  Loran on  407 702 8332)

Make your tax deductible contribution out to: DreamCatcher Horse Rescue
How to pay
1) Mail the form and contribution to us at: 10627-10639 Toad Rd, Clermont FL 34715
2) Drop off at the Barn
3) Use the Donate now button on our website
4) Call us with your credit card info
HELP US MAKE A DIFFERENCE!
"Your" horse will thank you!