DreamCatcher Horse Ranch and Rescue is a 501c3 corporation. Even with all the services we provide to the general public, we still have extra expense as part of our Horse Rescue.  We don't mind the challenges that come with the Rescue as we love what we do and wouldn't change it for the world.  If you would like to Help us with our Horse Rescue, here are some of the ways that you can.
Thanks!
"Feed & Vet Care FundRazr"
We have been rescuing so many horses lately and can really use your help.  By clicking on the following picture, you can help use with our Horse Feed and Vet Care Fundraiser.  Even if you can't donate right now, please click the link then share the page with your family and friends so that they might help our rescues.  Thanks!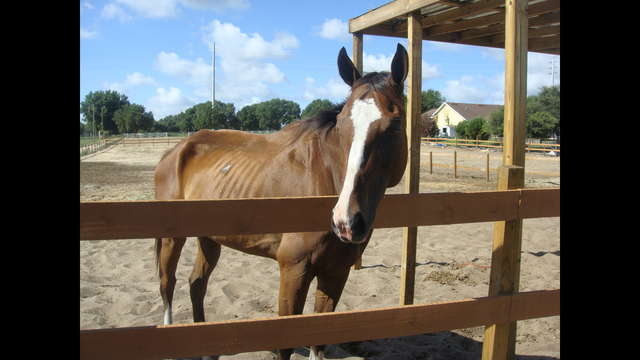 "Neighborhood Eats"
When eating at the following restaurants please be sure to say "Neighbohood Eats" to the cashier on the way out.  By doing so, 10% of your meal check will be contributed to Dream Catcher Horse Ranch and Rescue.
Porkies BBQ 175 US Hwy 27
Cheeser's Palace Cafe 707 W. Montrose St
Calabria Ristorante 16900 County Rd 455
Napoli's Pizzeria 556 S. US Hwy 27
Robata Japanese 1500 Oakly Seaver Dr
Cheeser's Place Catering 707 W. Montrose St
Abracadabra Ice Cream 2393 Hwy 27
High Octane Smoothies 1705 E. Hwy 50
Golden Crust Carribean Bakery 1020 E. Hwy 50
"Donate Now"
Make a donation in yours or someone else's name to help our rescue horses in need.  All donations will benefit Dream Catcher Horse Ranch and Rescue.  Simply click on the PayPal button below to make your donation.
"Donate Horse Items and Tack"
In order to raise funds for our resuce horses, we have a small resale tack shop that is always in need of dontated horse items and tack.  If you wish to donate horse related items or tack, please drop by the ranch or contact us.
Contact us with Questions or for More Information