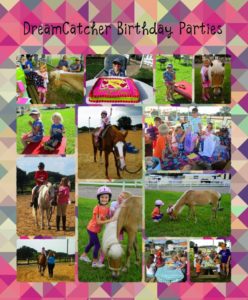 Children's Birthday Parties at DreamCatcher Horse Ranch
You will have a HANDS ON experience with the horses. This isn't your average birthday party!
Option 1
Large outdoor arena to ride,  Tour of the Barn and meet/pet the rescue horses and hear their stories.
Meet and interact our other barn animals -we have chickens, turkeys, goats, an Alpaca, mini horses and donkeys.
Pony Rides – 2 laps around arena per child, Birthday Child gets 3 laps.
INCLUDED FREE! for 2 hours – Large covered Party area provided with 4 large picnic benches for your use – you provide your own tablecloths and decorations, please no balloons (pinatas on request), they can scare the horses
Bring your own birthday cake, food and drinks. Pizza delivery also available from Pizza Hut, Dominos and Lil Anthonys.
Only $20 per Child for 2 hours – Minimum charge $100 – children not riding $10 each, (under 2 free) accompanying adults – FREE
ADD ON – Learn to groom a horse or pony $15 per horse (max 2 children per horse)  Add Hay rides –  $2 per child
Option 2 
All of the above but mini riding lessons instead of Horse/Pony Rides. Children will get to groom and tack the horses and then ride in a group lesson for 20 mins. Only $40 per Child – Minimum charge $160
Attending adults can accompany their children free of charge.
If Adults would like to ride the horses its $10 per adult for 2 laps around the arena (staff member will hand lead or walk beside) Sorry – no unsupervised riding during party.
Attending children who don't want to ride the cost is $10 per child. (under 2 free)
ADD ON – hay rides $2 per child
You will not find a more unique Party Experience anywhere!
Special Offer! Purchase 4 lessons for the birthday child for only $100 (Party day only)  $40 savings! 
Please call or text Loran on  4077028332 to check availability for your chosen date/time then complete the Birthday Party Registration Form, Credit Card Authorization From, and scan  and email  back to us  or mail to us with a $50 deposit to hold you space. Email is dchorses1@gmail.com or you can mail to us as below:-
Mailing address is 10627 Toad Rd, Clermont FL, 34715
Contact us with Questions or for More Information dchorses1@gmail.com